| | | |
| --- | --- | --- |
| ChaOS TCG: Danganronpa THE ANIMATION | Gallery | |
JAPANESE ONLY MERCHANDISE

The article below describes merchandise released exclusively in Japan.
As such, all information in this article is based on fan-contributed translations.
ChaOS (カオス) trading card game is a collectible card game series by Japanese manufacturer Bushiroad. A set based on Danganronpa: The Animation was released in October 2013. The illustrations on the cards were provided by Rui Komatsuzaki.
About ChaOS TCG
ChaOS (Character Operating System) TCG is a variation on the popular card game Weiß Schwarz by Bushiroad. ChaOS TCG sets are based on popular anime and video game series, with gameplay revolving around mixing and matching favourite characters from different series (called OS, or Operating Systems). For example, Danganronpa is indicated on cards as (OS: Danganronpa)
Cards come in several degrees of rarity, with super-rare Foil Cards and Signature Cards (signed by voice actors) among the most difficult to obtain. Trial Decks are available for all series, which are a pre-made starter deck, and booster packs are available in order to further expand your deck.
ChaOS TCG: Danganronpa THE ANIMATION
Trial Deck

The
Chaos TCG Danganronpa THE ANIMATION Trial Deck
is a starter deck that retailed for 1,238¥. The box contains 50 cards, a quick manual, a play book, deck instructions and a paper playmat. This deck contains 21 unique cards all of which are exclusive to the Trial Deck, but each card has several duplicates. 1 in 6 deck boxes contain an ultra-rare embossed foil Signature card, signed by a
Makiko Ōmoto
, the voice of
Sayaka Maizono
. 
Card examples:
To view the exclusive cards in this deck see the Card Gallery.
Boosters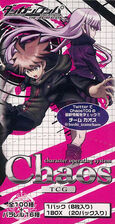 The ChaOS TCG Booster Packs allow fans to boost their collections with 8 cards per pack for approximately 200¥ retail. There are 116 cards available in the booster packs. The booster packs can also be purchased by the case, containing 20 packs of 8 cards (160 cards total). People who pre-ordered a full box of packs in the first release earned 5 themed card sleeves as a bonus.
Each 8-card pack contains 8 randomly selected cards of varying degrees of rarity. The ranks in order of rarity are: 【SP】 (special), 【RRR】 (triple rare), 【SR】 (super rare), 【RR】 (double rare), 【R】 (rare), 【U】 (uncommon) and 【C】 (common). Some cards have multiple variants of the same card. Embossed rainbow foil Signature cards 【SP】 signed by Yōko Hikasa, Megumi Toyoguchi, Makiko Ōmoto and Hekiru Shiina are available exclusively in these packs.
Card examples:
To view all the cards available in booster packs, see the Card Gallery.