DESPAIR IN STEREO is a special soundtrack CD for Danganronpa: Trigger Happy Havoc. It was available only through purchasing the US "Premium Edition" version of the game sold exclusively on NIS America's website.
The CD features a total of 30 songs on over a single disc, composed by Masafumi Takada. It was released on February 11th, 2014.
It was later reprinted digitally on February 18th, 2016 through Steam as a Bonus OST with purchases of the game.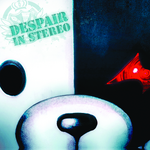 Reprint Cover.
External Links